Seychelles: "What would be your first wish if you were alone on an island, and why?" We all have our answers for this concluded question. However, if you are amazed by the travel bug, then the answer seems obviously simple …
"Your first and only wish would be to the isolated in no place other than Seychelles to live your lovely dream!
An archipelago of 115 islands, away from the coast of East Africa, Seychelles is what it seems when the imagination turns into a reality.
This is a place that creates the image of fairy tales, takes you to the mesmerizing landscapes and plays with your soul until you find your paradise on earth.
Seychelles is a land of beaches that attract the imagination with the shades of blues on the land and shades of yellowish-orange in the sky.
It's an island where rarest of creatures walk in the serenity and offer cuisine that provokes your taste buds.
With all its charms, Seychelles is a perfect travel destination that just can't be ignored on your bucket list. Whether it's the honeymooners seeking for the quality time or backpackers wishing an ideal getaway, this island has plenty to offer for everyone.
Wondering what makes this place in the entire world map, a hot favorite of world-travelers?
Well, here are 10 reasons that should be just enough to satisfy your curiosity:
1. The Beaches Invite For A Surreal Escape
The Seychelles beaches are the types of beauty that we can only dream of, where white sands meet with turquoise blue waters, these beaches are characteristic of an extremely pleasant retreat.
Seychelles is home to many beaches bordering the shoreline with more than 100 islands, where you're literally spoilt for choice.
In Seychelles, you can extend your love for water to reach new heights as you engage in various beach activities and applaud the wonders of natural exclusivity.
2. The Perfect Heaven Is Underwater
Due to the rich biodiversity with many coral reefs and its calm beaches, Seychelles has been considered as one of the most beautiful gems of nature under the blue shade of waters.
There are six marine national parks where the true tropical paradise discloses its breathtaking backdrops.
Whether it's snorkeling in corals or diving with dolphins, Seychelles has a lot in your store when you talk about its sea adventures.
Charges Of Underwater Diving:
Single Dive – Without Equipment – 55 € and With Equipment – 45 €
Package 5 Dives – Without Equipment – 260 € and With Equipment – 210 €
Package 10 Dives – Without Equipment -495 € and With Equipment – 405 €
Night Dive – Without Equipment – 65 € and With Equipment – 55 €
Long range dive – Without Equipment – 65 € and With Equipment – 55 €
Two Tank Dive – Without Equipment -105 € and With Equipment – 85 €
Private Boat Rental For Snorkeling Trip
Half Day – 500 €
Full Day – 750 €
3. Island Hopping Redefined
Have you ever wish to wake up to a different island every day? Well on that note, Seychelles is one of the best travel destinations to go island hopping for the best holiday of your life.
One of the best ways to look at various terrains filled with granite rocks, white glowing sands, the turquoise ocean turns into a breathtaking paradise, with the island hopping in Seychelles.
With an abundance of fascinating islands boasting of their extraordinary charm and beauty, Seychelles gives a new definition for island hopping for tourists.
4. Nature Casts Its Own Spell Here
In Seychelles, it will be a big injustice to overlook the beauty of nature. Here God has showered the landscape with wonders of wildlife, flora, and fauna.
If you are a fan of wildlife, here you'll be endearing the company of giant turtles, rare lizards and a huge company of birds to remind you that sky is the only limit when it comes to nature's blessings in Seychelles.
Find some giant tortoises at Aldabra Atoll, an island virtually untouched by humans!
Timings: Open all days from 06:00 am To 06:00 pm
Entry Charges: No entry charges for entering Aldabra Atoll
5. Ignite Again Your Love In The Island of Romance
It is often on the islands of Seychelles, where people hope that they could urge god to stop the time and le the spark of romance flare.
Offering postcard-perfect views, couples have often cited Seychelles to be their favorite place for weddings and honeymoon.
Seychelles calls everyone who enjoys spending a few fairytale moments with your beloved while enjoying the sunsets on the shimmering beaches and having the pleasure of exotic cuisine in divine luxury.
6. Hiking Trails That Lead You To Bliss
In the middle of glittering white sands, Seychelles hides its striking granite mountainous peaks for trekkers. Ahead to some of the most beautiful sight-seeing, the plentiful hikes of Seychelles are a fantasy of hikers.
Hiking in Seychelles might be your ultimate remedy for an adrenaline rush and an absorbing journey accommodating the most fantastic landscapes on the way.

There Are Numerous Hiking Trails in Seychelles:
Glacis Trois Frères Trail
Morne Blanc Trail
Salazie-Pasquière Trail
Glacis Noire Trail
Glacis La Réserve Trail
Cassedent Trail
Anse Major Trail
Fond Ferdinand Trail
Vacoa Nature Trail
Anse Mondon Trail
Nid d'Aigle Trail
Dans Gallas Trail
Copolia Lodge Trail
Anse Lazio and Anse Georgette Trail
Vallée de Mai Trail
Grande Barbe Trail
7. Series Of Activities For the Best Adventures
If you think that your visit to Seychelles stops at a hiking path, then you are probably wrong!
There is a hidden world of exciting adventures that Seychelles has got in store for you.
To name a few, Seychelles invites you to let your spirits be feeling free with zip-lining through your tropical forests, test your climbing capabilities on granite rocks, just catch a surfing break or sail away through the sea.
Zip-Lining Opening Hours: 09:00 – 14:00
Average cost (per person): Ziplining – INR 4,000/- | Rock climbing & rappelling – INR 3,000/- each | Hiking in MSNP is free of cost!
8. Creole Cuisine Hits the Perfect Degree of Exotic
Despite its tropical lands, which are close to an ideal fantasy, Seychelles cast the magical spell to visitors with dishes that take you to an exotic paradise.
By combining different flavors and mixing various dishes, you will not be able to stop yourself from appreciating the wonderful dishes of Creole food.
The average price of food for one day – S₨562 ($41)
9. Seychelles Is About Affordable Luxury
Yes, it was Seychelles which was chosen by  Prince William and Kate Middleton for their honeymoon.
But you must be surprised to know that Seychelles is one of the few places that allow you to fulfill your dreams on a budget.
Travel to this exotic paradise and admiring all the activities that it offers could be afforded by many since there are so many resorts and beaches that give you a taste of luxury at a reasonable cost.
The average price of a hotel for a couple – S₨1,814 ($132).
10. Weather Is Beyond The Boundaries To Ignore
One thing that you can't help, but see is Seychelles beach-perfect weather when you're there.
Located, south of the equator in the Indian Ocean, Seychelles is glorified with idyllic weather with occasional tropical downpours, days of sun and cool breezes plays the game of pain-brush on your cheeks.
The average temperature here is 27 degrees Celsius and it attracts all the tourists with its exquisite ambiance.
11. Skydiving
Skydiving is one of the best things to do in Seychelles as it draws adventure enthusiasts here. So, what about glancing the spectacular views of the city from a height of 14,000 ft? But the question comes, you don't have the time for extensive training, right? Don't Worry then! There are institutes that organize Tandem dives for beginners so that you don't miss out the most thrilling experience when you visit Seychelles.
Location: Victoria
Average cost (per person): INR 5,500/- (solo dive) & INR 9,000/- (tandem dive)
12. Helicopter Rides
A helicopter ride is one of the best things to do in Seychelles on honeymoon. As no Seychelles honeymoon is ever complete without a private Heli Tour over the islands fully capsuled with lush vegetation, crystal clear waters, and golden beaches. You can also have a ride with the family. ZilAir near Victoria offers helicopter services to visitors with excellent facilities and skillful staff for different sets of timing – 15, 30, 45, 60 and 75 minutes – as per what the travelers choose, accommodating up to 4 passengers at a time.
Location: Pointe Larue, next to Seychelles International Airport near Victoria
Range of cost (per person): INR 6,200/- (15 minutes slot) to INR 30,500/- (75 minutes slot)
13. Tropical Massage & Spa
Couples can hit the button of relaxation at a special tropical spa therapy for the most romantic experience during their visit to Seychelles. Getting involved in a spa massage while simply lying down on the beach and enjoying the calming Seychelles weather with the gentle sea waves blended with some awesome background music is one of the best things to do in Seychelles.
Location: Various Fitness Centres, yoga retreats, and spa resorts located in Mahé, Praslin, and La Digue.
Average cost: INR 4,500/- per person
15. Feeding Tortoises
Visitors, especially families with children, enjoy the ultimate pleasure to feed these most gentle and adorable creatures of Seychelles. Under the expert guidance of nearby island representatives, you can feed fresh vegetables, leafy plants, and fruits to the extra large tortoises here.
Location: Curieuse Island
Average cost: Free!
Tip: See a Shark Feeding session at the Aldabra Nature Reserve in Seychelles which is an altogether unique experience.
16. Shipwreck Diving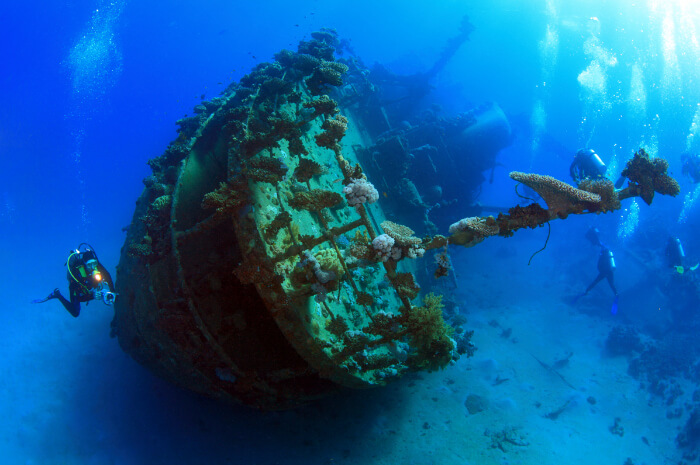 Explore much more than colorful marine life and striking corals while diving on your vacation in Seychelles. Explore the vast remains of the Ennerdale, a large British Fleet Auxiliary tanker located at the bottom of the Indian Ocean, which makes Shipwreck Diving one of the funniest things to do in Seychelles.
Location: Near Victoria
Average cost: INR 5,300/- per person
Tip: Also, one can go for a dive with whale sharks at Mahé & Silhouette Island which costs roughly the same.
17. Praslin Island
No Seychelles Tour is said to be complete without a visit to Praslin! Another untouched island which houses amazing sights for which Seychelles is known for. An amalgamation of white beaches, lush tropical forests, endless beauty, and the famous Coco De Mer has made people believe that Seychelles is, in fact, the lost Garden of Eden.
Praslin is one of the most recommended places to visit in Seychelles, due to its wide variety of beautiful, tranquil, and romantic extension of white beaches, such as Anne Volbert, Grande Anse, Anse La Blague, and Anse Lazio.
Where To Stop Your Hunger: Pirogue Restaurant & Bar or La Goulue in Anse Volbert
For Vegan, Head Towards: Indian Ocean or Le Relax Beach Resort
Best Time To Visit Seychelles
The perfect months to visit Seychelles are April, May, October, and November.
How To Reach
Traveling from Mumbai to Seychelles by air is the most convenient method for travelers. Also, you can reach Seychelles via Delhi too.
Air – Seychelles has two main airports namely, Seychelles International Airport (SEZ) in Victoria and Praslin Island Airport. Seychelles International Airport is the main point of entry for international travelers. Seychelles International Airport in Victoria is served by international airlines like British Airways, Austrian Airlines, Emirates, Kenya Airways, and Turkish Airlines. Long-distance scheduled flights to major travel destinations in Asia, Europe, and the Middle East are available from this airport.

 Road – Around 400 Kilometres of well-maintained road network connects the islands in Seychelles. The road connectivity is not so good outside major urban areas. Hiring a car from the airport or the hotel is a great way to go on sightseeing in Seychelles, especially on Mahé Island. Because of the lack of proper public transport in Seychelles, car travel allows travelers to visit and spend time at the nearby sightseeing place by their own choice. Bike rentals are available too in downtown Victoria. From Morning to evening, Seychelles Public Transport Corporation (SPTC) daily operates buses on Mahé and Praslin Islands. In rural areas, especially on La Digue Island, ox-carts are a popular way of public transport.

Sea – Victoria is the main seaport in Seychelles. Regular Cat Cocos and Inter-Island ferries run Mahé and Praslin Island. Ferries are available on definite time at 15 minutes of interval.
Average Cost Of Traveling To Seychelles – S₨2,223 ($162).
So what are you waiting for? Well, better get your passport before it is filled with dust and take off to this stunning paradise.
And yes, you may uncover some beauty secrets that Seychelles has got hidden behind its palm-fringed coastlines and below its azure waters.